Description
Rate: 5 star
Address: Tran Hung Dao Street, Duong Dong Beach, Long Beach / Duong Dong Town, Phu Quoc Island, Vietnam
Hotel area: Long Beach / Duong Dong Town
Number of rooms: 43
Housed in a colonial style mansion, this luxury property is in the middle of a 12 mile stretch of white sand. Designed to reflect the ambiance of a colonial seaside mansion, the boutique resort is set surrounded by tropical gardens.
Located off the coast of Vietnam, the resort is a gem on Phu Quoc Island, fast becoming a tourist hot spot. A must do is snorkeling and diving, and the concierge can arrange for both. Or if you are feeling lazy, spend a lazy day on the beach getting a massage. Rent a jeep or a motorcycle to best explore the island, admire the beaches or go down the dirt roads to explore the National Park and visit the villages that make the famous fish sauce. MGallery La Veranda Resort Phu Quoc provides a little something for everyone- a relaxing or an adventurous holiday, it's completely up to you.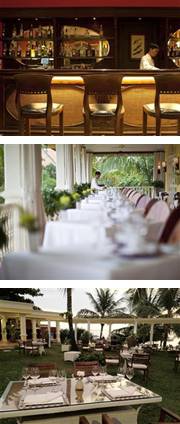 Le Bar
Opening hours:14:30 – 23:00 Le Bar is open every day serving a menu of light refreshments, ice cream and cocktails. Breezy and inviting, with soft lighting and sophisticated art deco design, Le Bar comes into its own after sundown. Our bartenders offer a range of delicious wines, spirits and beers and a unique atmosphere of quiet indulgence. Being able to look over the ocean, watching the sun set, makes this the ideal place for a relaxing afternoon before the night falls.
The Pepper Tree Restaurant
Type of cuisine: International Opening hours:06:30 – 22:00 In an island style house overlooking the beach and the garden, the restaurant is the heart of the resort with a wide range of food and drinks on the menu. Our signature restaurant commands stunning views over the ocean and the view at sunset is incomparable. Combine this with the innovative Pacific Rim cuisine devised by our talented team of chefs and you have the perfect sensory experience.
Le Jardin Restaurant
Type of cuisine: Mediterranean Opening hours:10:30 – 22:00 Located in front of the Main House on the lawn of La Veranda Resort is Le Jardin. Our immaculate lawn is fringed with palms and looks out over the sand beach. It's the perfect place for a family lunch or an afternoon snack. Our woodfired oven makes authentic Italian style pizzas, and the menu features simple, healthy hearty meals to suite all tastes.