Phan Thiet
Phan Thiet is the largest town in Binh Thuan province, 200 km east of Saigon. With the clear sky, the blue sea and abundant sand, Phan Thiet is a beautiful landscape. Though today tourism plays a very important role in the local economy, Phan Thiet is traditionally known for its fish sauce. Like a gift from nature, Phan Thiet with sea breeze and swingy coconut trees is the favorite stop for domestic and international tourist. The romantic landscape here is for those who enjoy their sweet honeymoons, for families and friends to stay away from the busy city life. As a fact, most travelers come to Phan Thiet for heading to Mui Ne Beach, 11km away.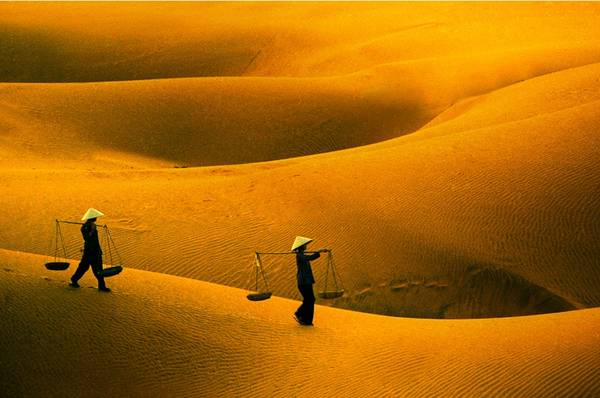 What to do?
Mui Ne Beach is the most visited place once coming to Phan Thiet beside other peaceful beaches such as Doi Duong Beach and Hon Rom. Nearby Phan Thiet, visitors can explore some historical and cultural sites including Ke Ga Light House, Thuy Tu Temple, The lying Buddha, the Ong Hoang Building and the Poshanu Cham Tower. There are also beautiful landscapes such as Suoi Tien (Fairy Spring) and Cau Isle.
When to go?
The weather in Phan Thiet is roughly the same all year hot and dry with an average temperature of around 27 degrees. The rainy season begins in May and runs through October, but the rain is often light and sporadic. The waves are best from August to December, and the wind is best from November to April, so never really a bad time to go.
Travel Tips
Unless you are bypassing Mui Ne Beach and looking for a place to sleep, hotels in Phan Thiet tend to be noisy and are not cheap.