Location and history
Located on the bank of Song Huong- Perfume River; Hue, the capital of Thua Thien Hue province in Central Vietnam, is 700 km southern Hanoi, 1100km northern Ho Chi Minh City, and only a few miles from the sea. Not until 1945 was Hue the national capital, the political, cultural and religious center of Vietnam under the control of Nguyen Dynasty. Most well-known for its historic values; Hue had been recognized as one of the World of heritage by UNESCO.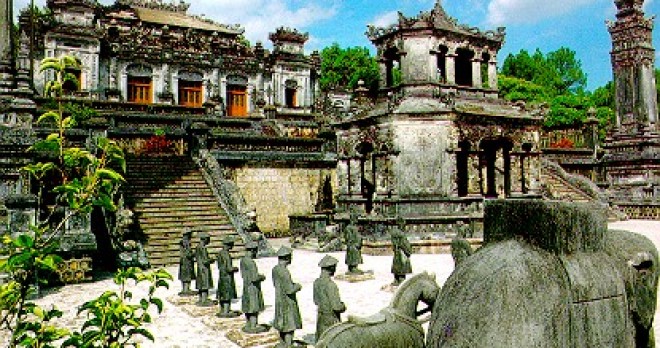 What to see in Hue
If you are a history buff, or simply love discovering exotic cultures, Hue- Vietnam's former Royal Capital is definitely on the top list of your travel plan. The city represents the outstanding demonstration of the power of the vanished Vietnamese feudal empire, including a complex of monuments, tombs and pagodas that attract tourists coming from all over the world.
Occupying a large, bounded area on the north side of Perfume River; four citadels were comprised to create the Capital City: Hoang Thanh ( imperial city) for royal palaces and shrines, Tu Cam Thanh (Forbidden Purple City) for royal residences, Dai Noi (Inner city) and Tran Binh Dai, which exclusively ancient architecture. Tourists are expected to spend at least one day to visit the whole complex. They can also catch a taxi, hire a bicycle, rent a "xich lo"- Vietnamese cycle if do not feel like walking around the site.
There are several tombs of ancient emperors scattering along the Perfume River: such as Minh Mang, Khai Dinh, Tu Duc, Dong Khanh, etc. On Cam Khe Hill, Minh Mang tomble was built in 1843, with the area of 18 hectare, 3-meter-high defended wall, and nearly 20 architectural constructions. Lying in the middle of a pine forest, Tu Duc tom belongs to Duong Xuan Moutain, 8km far from Hue.
Featured in various songs and poems, Thien Mu pagoda has become an essential part of Hue City. With the symbol of the octagonal 21-meter-high tower, the pagoda is the perfect combination of artificial architectural work and picturesque nature. Tourists can also visit other pagodas such as Tu Dam, Tu Hieu, Huyen Khong.
One of the dishes that you cannot miss in Hue is "Com Hen"- rice with baby clams- a very simple and low-priced specialty. A bowl of "com hen" will bring you the sweet-smelling flavor of rice and herbs, mixed with the buttery, sour, bitter taste of spices, grease, baby clams.
Other flour-based dishes are worth trying: banh bot loc (rice pastry with meat and shrimp), banh la cha tom (soft pastry wrapped in leaves with meat, shrimp, and egg), banh hot thit quay (roast pork pastry), banh la (sweet sticky rice wrapped in leaves)… Bun thit nuong (rice vermicelli with grilled meat), Bun bo gio heo (rice vermicelli with beef and pork) are loved by many tourists.
Hue is also famous for its extraordinary special "che"- sweet soups. There are nearly 50 kinds of "che", from the simple, common to elaborate ones. Four typical kinds of "che" that Hue citizens most proud of are: che khoai tia (purple sweet potatoes sweet soup), che long nhan boc hat sen (longan wrapped in lotus seed sweet soup), che troi nuoc nhan tom thit (floating sticky rice cake with shrimp sweet soup) and che dau van bot loc (bean and rice pastry sweet
When to Go ?
The best seasons to visit The best time to visit Hue is from March to August, particularly in March and April when it is normally dry and the temperatures are cooler although light rain is still likely. Rainy season started from September to January, heavily and frequently.
Travel Tips
Most of the city's major sites, beside the Forbidden City, are not within walking distance from the city center. It is recommended to arrange a tour either by boat, private car or motorbike. Bicycling is also an option. For the DMZ tour, in fact, there are few remnants of the war and not much left to see. If you are interested in the war history, bring along a good tour guide who can color in the sites with stories. Don't forget to bring along an umbrella and a torch to explore the Vinh Moc Tunnels.