Vietnam Lunar New Year Festival
Lunar New Year Festival often falls between late January and early February; it is among the most important holidays in Vietnam. Officially, the festival includes the 1st, 2nd and 3rd day in Lunar Calendar; however, Vietnamese people often spend about nearly a month to celebrate this special event.
Traditionally, the purpose of Tet holiday is that Vietnamese would like to thank Gods for the arrival of spring with a variety of blooming trees and flowers after a cold and harsh winter. Also, this is the privileged occasion for family's members to reunite, celebrating a new year which has come together, and saying farewell to the previous one. All the best things are prepared and consumed during this holiday as people want to ensure that they will have a new year full of prosperity.
Tet Holiday gets its beginning marked with the first day in the Lunar Year; however, its preparation starts long before that. One week before the holiday, in the 23rdday of the last Lunar month, is East Day—a ritual worshiping Kitchen Gods (Tao Cong). It is believed that each year on this day, these Gods (two males, one female) go to heaven to tell Jade Emperor (Ngoc Hoang) about all activities of households on earth. On the New Year's Eve, they return to earth to continue their duties as taking care of families. Each household also buy a carp as this is the transport for the Gods on their trip to heaven. After the ritual, they set the carp free. Kitchen Gods are believed as the first gods leaving earth to report, followed by others on the next day. Within the absence of all of the gods, household members start cleaning their houses and decorating them beautifully with a plenty of accessories—a process that must be done before the New Year's Day as the appearance of cleaning equipment after that equals sweeping all the good lucks away. In addition, people buy and/or prepare items exclusive in Tet Holiday (for example: Chung cake, Day cake, pork bologna, pickled onion, candied fruits and seeds)—mainly foods that can be stored for a long time as all services are closed in the event, for about two weeks. Also, they buy new clothes, and give gift to their homies, relatives as well as friends. One thing to remember is that everybody needs to pay all of the debt as remaining debts from one year to another is considered bringing bad lucks.
The penultimate New Year's Eve—Tat Nien, the meal finishing the entire year—should be well served, in which everyone involved remembers all the happy moments and talks about the good things only. On the New Year's Eve (Giao Thua), Vietnamese people have a spectacular celebration which involves the whole nation—some may gather around TV and watch the Tao Quan show, some may go out for fireworks observation. When the bell of the twelfth hour rings, everybody gathers, at exciting parties or at the comfort of their homes, saying Happy New Year to one another in warm hugs, forgetting all problems as well as hoping for a better start.
On the New Year's Day, the first ones who come to visit households—called first-foot—are very important and hence need to be well chosen, as they are believed to hold in their hands the entire luck of the family in New Year (Tan Nien). After that, till the third day or even the fourth day of Tet, individuals meet relatives, friends and colleagues, wishing them all kinds of good things like happiness, health and success. They give children lucky money covered in pretty little red envelopes also because of that reason, as red represents good lucks. Also, they visit pagodas to pray for a good start in the coming year.
There is a saying in Vietnam, "Father's Tet is on the First Day of New Year, Mother's Tet is on the Second, and Teacher's is on the Third". The best illustration of the quotation is that, on the first day, Vietnamese visit their parents on the husband's side on; on the second day, they turn to parents on the wife's side; and lastly, they spend their third day of Tet visiting their teachers. All in all, Tet is all about back to origins, wishing for the best, and joining in colorful parties.
Time: 1st lunar month
Purpose: reunite family, celebrate new year with the best
Activities:
–          Kitchen Gods worshipping ritual
–          Cleaning and preparation
–          New Year's Eve
–          New Year's Day
–          New Year's Day
---
Essential Foods for Tet holidays
 Banh Trung  (steamed square cake) and its Southern variety called Banh Tet – is unique to Vietnam's Tet holiday, though many other countries (China, Japan, Korean, Singapore, Taiwan) celebrate this holiday as well. Banh Chung is a food made from glutinous rice, mung bean and pork, added with many other ingredients. Banh Chung is covered by green leaves (usually banana leaves) and symbolizes the Earth, invented by the prince Lang Lieu from Hung King dynasty. Besides traditional reason, Banh Chung is chosen as the main food for Tet holiday because of it can last long for days in the severe weather of Vietnam  (Banh Chung can survive at room temperature for nearly 1 month).
VIETNAMESE SAUSAGE
 Gio Cha (Vietnamese ham/sausage) is another traditional food in Tet holiday, and usually served with Xoi (sticky rice) and Ba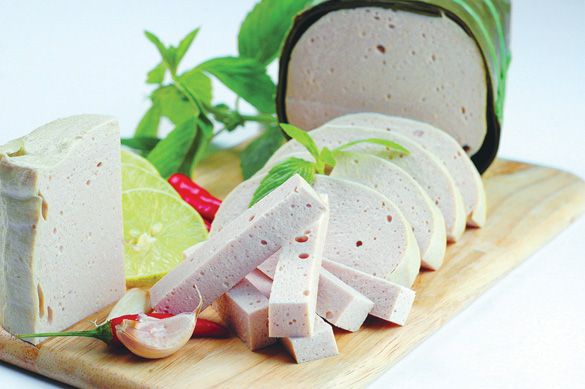 nh Chung. Gio is different from Cha since Gio is boiled and Cha is deep-fried. Vietnamese people make Gio from lean meat, added fish sauce and covered by leaves then boiled for hours. Cha is also made of lean pork and ingredients, but Cha is not wrapped by leaves and boiled but deep-fried in oil. Cha just survive for some days when Gio can last for month due to its covers. There are many kind of Gio, categorized by its origins: Gio Lua (made from pork), Gio Ga (made from chicken), Gio Bo (made from beef). All these types are used not only in Tet holidays but also over the year.
STICKY RICE – XOI:
Xoi (Sticky rice) is also a very important part of Tet holiday in Vietnam, since the meals to worship the ancestors can not missing this dish. Moreover, along with Banh Chung, xoi is the main staple foods for Tet holiday. Xoi in Tet holidays can be seen in many forms: Xoi Lac (sticky rice with peanuts), Xoi Do Xanh (sticky rice with mung bean), Xoi Gac (sticky rice with special "gac" fruit). Among these types, xoi gac is favorite the most by people because of its special red color – symbolizes the luck and new achievement for the New Year. Xoi is usually served with Gio Cha or boiled chicken in Tet meals. Sometimes it can be served with Che (sweet soup) like a dessert.
BOILED CHICKEN – THIT GA:
Thit ga (boiled or steamed chicken) plays an important role in Tet holiday cuisine because all the tribute meals to the ancestors must contain a boiled chicken, whole or chopped. Chicken meat in Tet meals are various in forms: usually chicken are boiled and sliced, but sometimes people can place the whole chicken in a plate, or nowadays some families use roasted or fired chicken to replace the original boiled ones. Chicken meat is served with Xoi (sticky rice) and Banh Chung, and become one of the most popular main dishes in Tet holidays. Boiled chicken are always go with sliced lemon leaves and salt-and-pepper sauce, as a tradition. Chicken (especially bones, legs and heads) can be used to prepare the broths for other soups.
MUT – CANDIED FRUITS
Mut Tet (Tet jam) is not a food to serve in a meal during Tet holiday, but more like a snack to welcome guests in this special period. Mut is always kept in beautiful boxes and placed at the table in the living room, and it is the main food for the owners and guests to taste when they're talking, enjoyed over a cup of tea. Unlike Western jam, which is usually in liquid form and served with bread, "Vietnamese jam" is mainly in dry form, usually dried fruits and some kind of seeds (pumpkin seeds, sunflower seeds, watermelon seeds). This once-in-year mix of snack is very large in variety, with so many tastes: ginger, carrot, coconut, pineapple, pumpkin, lotus seed, star fruit, sweet potato. Nowadays, cake and sweet are slowly replacing jam in Tet period,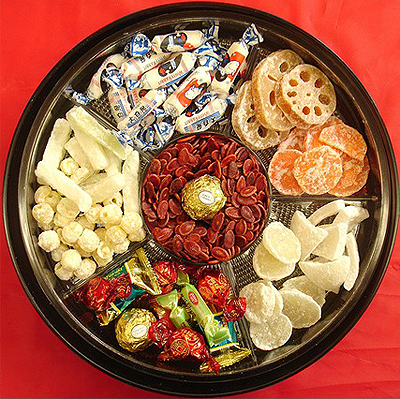 m